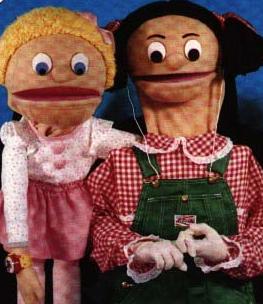 Brenda Dubrowsky...........Mandy Pucini
MEET MANDY PUCINI
Mandy Puccini is 12 years old and has been deaf since the age of two. As a toddler, she'd contracted meningitis which
damaged the nerves in her ears. Mandy wears hearing aids and is able to pick up some loud sounds through them, like
thunder.
The Kids on the Block Program on Deafness is designed to educate about deafness, both the medical condition and the
culture. Script material promotes awareness and sensitivity among hearing children, encourages appreciation of differences in
each person, explores some aspects of Deaf culture and the contributions of Deaf persons, and teaches some simple signs.

Deafness Script
"The Princess and the Queen"
Brenda is very excited to be playing the princess in a community play. When she discovers that her co-star, Mandy, is deaf,
she has many questions. Mandy takes the opportunity to explain a bit about being deaf. (Mandy, Brenda)