MEET MARK RILEY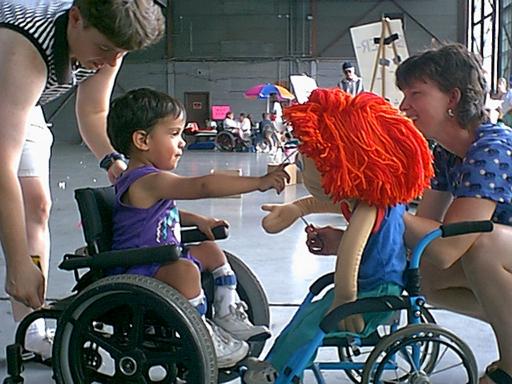 This is Mark (right) and his new friend Michael at The Soaring Eagles program in June 1999




The Kids on the Block Program on Cerebral Palsy features puppet character, Mark Riley, a 12 year old boy who is open and articulate about his particular type of cerebral palsy. Script material covers specific issues such as a description of cerebral palsy, Mark's use of his wheelchair, social concerns such as developing friendships, technological "cures," and the misperceptions conveyed about people with disabilities.
Cerebral Palsy Script
New Friends-
When Melody James meets Mark Riley for the first time, she is curious about his wheelchair, his
helmet and his speech difference. Mark encourages Melody's questions and explains about his
condition, cerebral palsy. As Melody gains confidence, she asks what she believes to be the most
difficult question of all. (Mark, Melody)
"I'm not 'confined' to anything, especially my wheelchair," says Mark. "My 'cruiser' helps me to get
around."


Back to "MEET THE KIDS"