"The Kids On The Block"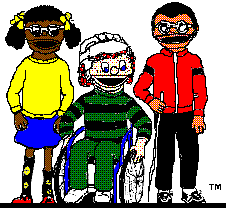 Making a DIFFERENCE! since 1980

"THE KIDS ON THE BLOCK" ARE A TROUPE OF DISABLED AND NON-DISABLED PUPPETS DESIGNED TO TEACH WHAT IT IS LIKE TO HAVE A DISABILITY. It's all about what kids CAN do, not what they can't! This interactive program uses four foot tall bunraku style puppets and covers the topics of blindness, deafness, mental retardation, and C.P.


"THE KIDS ON THE BLOCK" in Dauphin County is part of the National Kids on the Block Inc. Educational Puppet Program Series and is presented as a community outreach/educational program by the Arc of Dauphin County through funding from the Dauphin County MH/MR and United Way of the Capital Region. The Arc of Dauphin County is a private, non-profit organization providing services to individuals who have developmental disabilities.



Schedule Your Show Now

"The Kids on the Block" in Dauphin County is now scheduling for the 2000/2001 school year. The "Kids" visit second grade classrooms in Dauphin County free of charge to help promote students' understanding and acceptance of peers with developmental disabilities. They are also available to perform in a thirty mile radius outside of Dauphin County as well as to visit summer camps,health fairs,libraries and "community happenings". Call Linda Dale for availability and fee schedules.

For more information about the ARC of Dauphin County or the "Kids on the Block" of Dauphin County please call the Arc at (717) 540-5800 or write to the e-mail or snail-mail addresses below.
---

Linda Dale



The Arc of Dauphin County
4309 Linglestown Road Suite 114e
Hbg, Pa 17112
United States


Visit our GALLERY of very special pictures
MEET THE KIDS


"READ ALL ABOUT IT!" - Our BOOKLIST of Books Available Through The Dauphin County Library System



Welcome to Holland Click here to read Emily Perl Kingsley's inspirational view of what it is like to raise a child with a disabilty..


Some interesting links to visit.Click your browser's back button to return to "The Kids"
PUPPET POWER & LINKS!(HACC TYP Drama Camp)
ARC of Dauphin County
The United Way of Pennsylvania
People First Language
UNICEF:Puppets with a purpose
Animated ASL Dictionary
ASL Spelling Study: The Alphabet
Cerebral Palsy Tutorial
"Dare to be Different"
Books with Characters who are Deaf
Deafness Information--Texts
The Puppeteer's Cooperative Home Page
The Puppetry Home Page
Nov 99 Puppet Workshop at HACC
HACC Theatre Outreach Cinderella Web Site
BEST
of POD